FOR MANY PHOTOGRAPHERS, the idea of walking up to a stranger and asking if they'd pose for a few portraits is totally alien. But once you pluck up the courage to actually do it, you'll find that most folk are flattered and intrigued. The images you end up with are also likely to be the most memorable; interacting with locals offers an insight into lives and cultures that could so easily be missed-you may even make new friends!
Successful travel portraiture largely hinges on treating your subjects with kindness and respect. Local people aren't tourist attractions in their country any more than you are in yours how would you feel if someone thrust a camera in your face as you walked to the shops or started shooting candids of you from across the street. If you see a person you think would make a good subject, ask permission. You don't have to get involved in lengthy discussion or need to speak the language if you point at your camera and say, "Photo? most people will understand. If they decline, say, "Okay, no problem," and walk away. Some people feel uncomfortable about it; others may object on religious or cultural grounds. By asking permission, you can establish this before anyone gets upset and you're left feeling embarrassed. If your subject is happy to be photographed, instead of grabbing a few snaps then scuttling away, take control. The quality of light is crucial. If your subject is in full sun, you won't produce pleasing images. If they have dark skin, contrast is likely to be an issue, too. The solution is to find soft light, and the best place for that is in the shade, so have a quick look around and ask your subject if they'd mind moving. Most folks are incredibly cooperative.
Although you don't want to take up too much of your subject's time, try to avoid the urge to rush. Take a few shots, check them on the preview screen to make sure everything is okay focusing, exposure, composition, light show them to your subject to break the ice, then take some more and keep going until you've got a winning shot. At the same time, don't mess about: have everything before you ask to make the most of your time with them. Your subject may be nervous, but if you chat to them as you're shooting, they'll soon lighten up and you'll capture more natural expressions. Even smiling and saying happy to them may do the trick if they're looking miserable though avoid the temptation to always take smiley portraits as more serious expressions tend to be more powerful. Make sure you focus on the subject's eyes as they need to be sharp (zoom in to the image on the preview screen to check) and if the background is cluttered, use a wide aperture of f/4 or wider to throw it out of focus.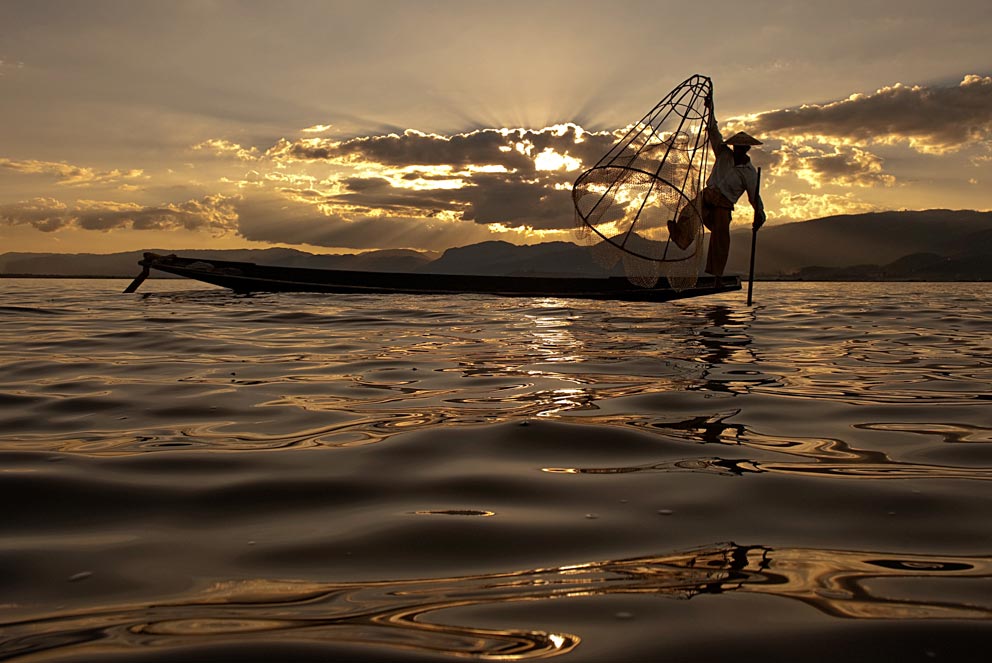 It can be tempting to take conventional headshots, and this approach can certainly work well with people who have faces full of character, but the environment they're in can also add interest, so don't be afraid to step back or switch to a wider focal length to include it. Better still, take a range of shots, both tight and wide, if you can.
Focal lengths from 80-200mm are ideal as you can fill the frame from a comfortable distance and throw the background out of focus at wide apertures. The foreshortening of perspective flatters facial features, too especially around the80mm to 135mm range. A 35-50mm standard lens is also perfect for travel portraits, especially those in low light, as it's lightweight, sharp and has a fast maximum aperture. With DSLRs using APS-C sensors, the effective focal length is around 75mm. For environmental portraits, use a standard or wide-angle zoom to include your subject's surroundings. If you do want to capture some candid portraits without the subject knowing, ditch the long lens as it's too intrusive and opt for a wide-angle. Get low to the ground and use the LCD monitor or a right-angle finder to photograph the scene. A wide-angle lens is more discreet as you don't have to point it directly at your subject, plus it means you can capture any atmosphere in the scene, too
Whether or not you reward your subject for their cooperation will depend mainly on them. In touristy areas of many countries, payment will be expected and that fact will be made obvious before you start shooting. But that's not always the case, so don't automatically offer money, and if payment is expected, keep the sum sensible the equivalent of $0.50 to $1 is usually sufficient. Bear in mind, westerners are much more savvy about money than those in the east, and you may even find they approach you for photographs to make money.
Once home, you may wonder, 'Okay, I've got all these great portraits, but what on earth am I going to do with them?' Well, for a start, you could make a few prints and post them to your subjects as a thank you'. Few people in the developing world have email or internet access, but it's easy to send prints by 'snail mail and that gesture will be massively appreciated. Like we said before, you could also enter the images into competitions, post them on image-sharing websites, maybe create a Blurb book of travel portraits, or post them on your website and blog if you have one. Good travel portraits can be highly saleable through picture libraries, but most libraries will only accept people shots with a signed model release from your subjects, and expecting a stranger to sign a contract that they probably don't understand, moments after meeting them, is rather a big ask.